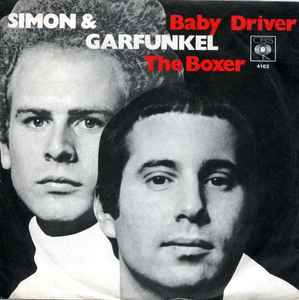 About The Song
"The Boxer" is a folk rock song by the American music duo Simon & Garfunkel, released in 1969 on their fifth studio album, "Bridge over Troubled Water." The song is renowned for its poignant lyrics, beautiful harmonies, and the acoustic instrumentation that captures the essence of the folk-rock genre.
Five facts about Simon & Garfunkel's "The Boxer":
Lyricism and Themes: "The Boxer" is known for its rich and introspective lyrics. The song tells the story of a young man facing hardships and disappointments in his journey, seeking solace and redemption. The refrain, "Lie la lie," became iconic and contributed to the song's emotional impact.
Recording Challenges: The recording process for "The Boxer" was intricate. The duo faced challenges in achieving the desired sound for the drum tracks, eventually resorting to unorthodox methods, such as using a tape recorder as an echo chamber to get the distinctive drum sound in the final mix.
Accordion Solo: The instrumental break in the middle of the song features an accordion solo performed by Garfunkel's brother, Jules Garfunkel. This unconventional choice of instrument adds a unique flavor to the track.
Chart Success: "The Boxer" was a commercial success, reaching the top ten on the Billboard Hot 100 chart in the United States. It also earned critical acclaim for its craftsmanship, further solidifying Simon & Garfunkel's reputation as one of the leading musical acts of their time.
Cultural Impact: The song has endured as one of Simon & Garfunkel's most beloved compositions. Its timeless quality has led to numerous cover versions by various artists, contributing to its lasting cultural impact. Notably, the Mumford & Sons version in 2012 introduced the song to a new generation of listeners.
Video
Lyrics
I am just a poor boy
Though my story's seldom told
I have squandered my resistance
For a pocketful of mumbles
Such are promises
All lies and jest
Still a man hears what he wants to hear
And disregards the rest

When I left my home and my family
I was no more than a boy
In the company of strangers
In the quiet of the railway station
Running scared
Laying low, seeking out the poorer quarters
Where the ragged people go
Looking for the places only they would know

Lie-la-lie
Lie-la-lie-lie-lie-lie-lie
Lie-la-lie
Lie-la-lie-lie-lie-lie-lie, lie-lie-lie-lie-lie

Asking only workman's wages, I come looking for a job
But I get no offers
Just a come-on from the whores on 7th Avenue
I do declare, there were times when I was so lonesome
I took some comfort there, la-la-la-la-la-la-la

Lie-la-lie
Lie-la-lie-lie-lie-lie-lie
Lie-la-lie
Lie-la-lie-lie-lie-lie-lie, lie-lie-lie-lie-lie

Then I'm laying out my winter clothes
And wishing I was gone, going home
Where the New York City winters aren't bleeding me
Leading me, going home

In the clearing stands a boxer
And a fighter by his trade
And he carries the reminders
Of every glove that laid him down
Or cut him till he cried out
In his anger and his shame
"I am leaving, I am leaving"
But the fighter still remains

Lie-la-lie
Lie-la-lie-lie-lie-lie-lie
Lie-la-lie
Lie-la-lie-lie-lie-lie-lie, lie-lie-lie-lie-lie
Lie-la-lie-lie-lie-lie-lie
Lie-la-lie
Lie-la-lie-lie-lie-lie-lie, lie-lie-lie-lie-lie

Lie-la-lie-lie-lie-lie-lie
Lie-la-lie
Lie-la-lie-lie-lie-lie-lie, lie-lie-lie-lie-lie
Lie-la-lie-lie-lie-lie-lie
Lie-la-lie
Lie-la-lie-lie-lie-lie-lie, lie-lie-lie-lie-lie
Lie-la-lie-lie-lie-lie-lie
Lie-la-lie

Lie-la-lie-lie-lie-lie-lie, lie-lie-lie-lie-lie
Lie-la-lie-lie-lie-lie-lie
Lie-la-lie
Lie-la-lie-lie-lie-lie-lie, lie-lie-lie-lie-lie
Lie-la-lie-lie-lie-lie-lie
Lie-la-lie
Lie-la-lie-lie-lie-lie-lie, lie-lie-lie-lie-lie
Lie-la-lie-lie-lie-lie-lie
Lie-la-lie
Lie-la-lie-lie-lie-lie-lie, lie-lie-lie-lie-lie

I love you