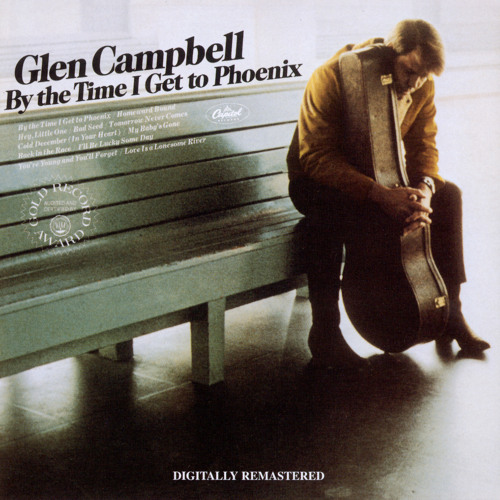 About The Song
"By the Time I Get to Phoenix" is a song by Glen Campbell, released in 1967. Here are five facts about the song:
Songwriter Jimmy Webb: The song was written by Jimmy Webb, who became a frequent collaborator with Glen Campbell. Webb wrote several other hits for Campbell, including "Wichita Lineman" and "Galveston." "By the Time I Get to Phoenix" was one of their earliest collaborations.
Narrative Structure: The song is notable for its narrative structure, telling the story of a man who leaves his partner in Phoenix, Arizona. The emotional weight of the lyrics is enhanced by Campbell's soulful delivery and the lush orchestration.
Grammy Success: "By the Time I Get to Phoenix" won two Grammy Awards in 1968. Campbell received the awards for Best Vocal Performance, Male and Best Contemporary Male Solo Vocal Performance. The recognition contributed to his rise as a prominent country and pop artist.
Chart Success: The song was a commercial success, reaching the top 10 on both the country and pop charts. Its popularity helped establish Glen Campbell as a crossover artist, appealing to both country and mainstream audiences.
Cover Versions: The song has been covered by numerous artists across different genres. One of the most famous covers is by Isaac Hayes, who included a lengthy and soulful version on his 1969 album "Hot Buttered Soul." The diverse range of artists who have covered the song highlights its enduring appeal.
Video
Lyrics
By the time I get to Phoenix
She'll be rising
She'll find the note I left hanging on her door
She'll laugh, when she reads the part that says I'm leaving
Cause I've left that girl, so many times before

By the time I make Albuquerque
She'll be working
She'll probably stop at lunch,
And give me a call
But she'll just hear that phone keep on ringing
Off the wall, that's all

By the time I make Oklahoma
She'll be sleeping
She'll turn softly and call my name out low
And she'll cry, just to think, I'd really leave her
Though time and time I've tried to tell her so
She just didn't know,
I would really go