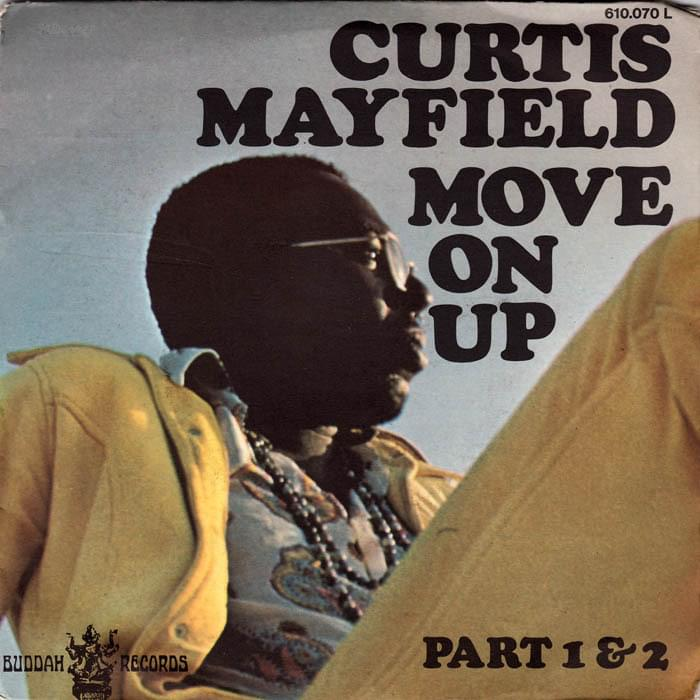 About The Song
"Move On Up" is a classic soul and funk anthem by Curtis Mayfield, released in 1970 as a single from his debut solo album, "Curtis." The song is known for its uplifting and empowering lyrics, coupled with Mayfield's smooth vocals and innovative musical arrangements.
Five facts about Curtis Mayfield's "Move On Up":
Empowerment Theme: "Move On Up" is celebrated for its positive and empowering message. The lyrics encourage listeners to strive for success and progress, emphasizing the importance of hard work and perseverance.
Brass Section Brilliance: The song features a prominent brass section, creating a dynamic and energetic sound. The arrangement, including the use of horns, adds a layer of sophistication to the overall composition.
Extended Version: The album version of "Move On Up" is around 8 and a half minutes long, featuring an extended instrumental break. This extended version has contributed to the song's popularity in dance clubs and its use in various soundtracks.
Influence on Hip-Hop: The distinctive horn riff from "Move On Up" has been sampled by numerous hip-hop artists, including Kanye West, who prominently used it in his hit song "Touch the Sky" featuring Lupe Fiasco. This sampling has introduced Mayfield's music to new generations.
Civil Rights and Social Commentary: Curtis Mayfield was known for infusing his music with social and political commentary. "Move On Up" subtly addresses issues of social mobility and the pursuit of the American Dream, making it a poignant anthem during the civil rights era.
Video
Lyrics
Hush now child
And don't you cry
Your folks might understand you
By and by
Just move on up
Towards your destination
Though you may find, from time to time
Complication

Bite your lip
And take a trip
Though there may be wet road ahead
And you cannot slip
Just move on up
For peace you will find
Into the steeple of beautiful people
Where there's only one kind

So hush now, child
And don't you cry
Your folks might understand you
By and by
Move on up
And keep on wishin'
Remember your dream is your only scheme
So keep on pushin'

Take nothing less
Than the supreme best
Do not obey rumors people say
'Cause you can pass the test
Just move on up
To a greater day
With just a little faith, if you put your mind to it
You can surely do it