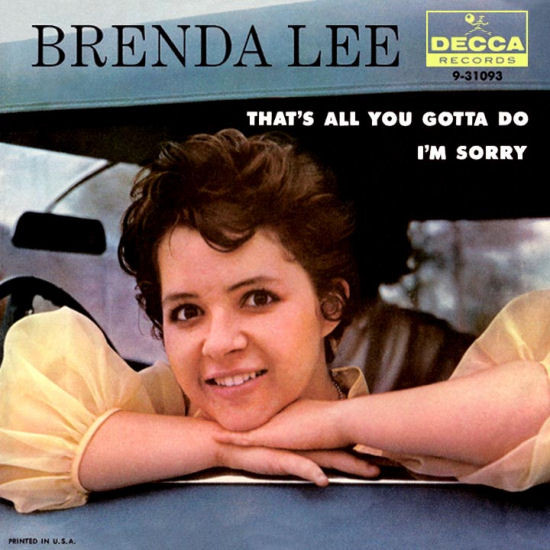 About The Song
"I'm Sorry" is a classic pop ballad recorded by Brenda Lee in 1960. The song showcases Brenda Lee's powerful and emotive vocals, and it became one of her signature hits. Here are five facts about the song:
Release Year and Chart Success: "I'm Sorry" was released in 1960 and quickly became a massive commercial success. It reached No. 1 on the Billboard Hot 100 chart, making Brenda Lee the youngest female artist at the time to achieve this feat.
B-Side Success: The B-side of the single, "That's All You Gotta Do," also gained popularity and charted independently, reaching the top 10 on the Billboard Hot 100. This double-sided success highlighted Brenda Lee's versatility as a singer.
Written by Ronnie Self and Dub Allbritten: The song was written by Ronnie Self and Dub Allbritten. Its lyrics convey the theme of heartbreak and remorse, and Brenda Lee's heartfelt delivery added to the emotional impact of the song.
Enduring Popularity: "I'm Sorry" has endured as one of Brenda Lee's most beloved songs. Its timeless quality and emotional resonance have led to its continued recognition and use in various forms of media over the years.
International Impact: The song's success wasn't limited to the United States; it achieved international acclaim and topped charts in several countries. Brenda Lee's crossover appeal helped solidify her status as a prominent figure in both country and pop music.
Video
Lyrics
I'm sorry, so sorry
That I was such a fool
I didn't know
Love could be so cruel
Oh, oh, oh, oh, oh-oh
Oh, yes

You tell me, mistakes
Are part of being young
But that don't right
The wrong that's been done

I'm sorry
(So sorry) So sorry
Please accept my apology
But love is blind
And I was to blind to see
Oh, oh, oh, oh, oh-oh
Oh, yes

You tell me mistakes
Are part of being young
But that don't right
The wrong that's been done
Oh, oh, oh, oh, oh-oh
Oh, yes

I'm sorry, so sorry
Please accept my apology
But love was blind
And I was too blind to see
(Sorry)