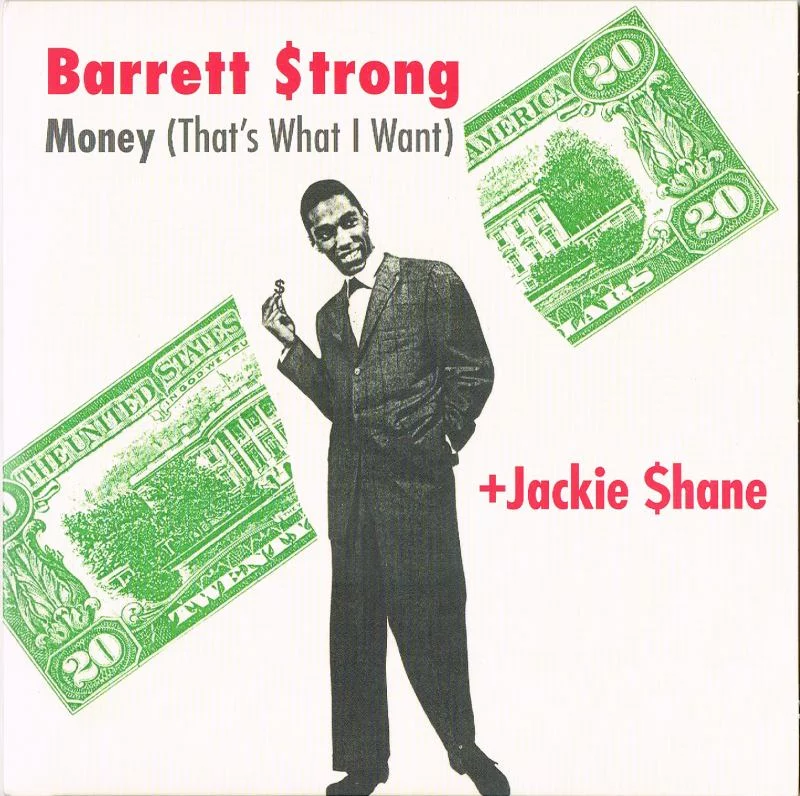 About The Song
"Money (That's What I Want)" by Barrett Strong is a classic R&B and soul song that was released in 1960. The track has become a timeless anthem, covered by various artists over the years. Here are five facts about this influential song:
Early Motown Hit: "Money (That's What I Want)" holds the distinction of being the first hit record for the Motown record label. Barrett Strong's powerful vocals and the song's catchy, rhythmic arrangement helped establish Motown's reputation for producing chart-topping hits.
Co-Written by Berry Gordy: The song was co-written by Berry Gordy, the founder of Motown Records, and Janie Bradford. Berry Gordy played a pivotal role in the early success of Motown, and this song was one of the label's breakthrough hits.
Covers by Numerous Artists: The song's popularity is evident in the numerous cover versions recorded by artists from various genres. Notable artists who have covered "Money (That's What I Want)" include The Beatles, The Rolling Stones, The Kingsmen, and the Flying Lizards, among others.
Influence on The Beatles: The Beatles included a cover of "Money (That's What I Want)" on their second album, "With The Beatles," released in 1963. The song was a staple of their early live performances and demonstrated the influence of R&B and Motown on the band's music.
Chart Success: Barrett Strong's original recording of the song was a commercial success, reaching the top 10 on the Billboard R&B chart. The enduring popularity of "Money (That's What I Want)" has solidified its place as a classic in the history of R&B and soul music.
Video
Lyrics
The best things in life are free
But you can give them to the birds and bees

I need money (that's what I want)
That's what I want (that's what I want)
That's what I want (that's what I want)
That's what I want (that's what I want)

Your love give me such a thrill
But your love don't pay my bills

I need money (that's what I want)
That's what I want (that's what I want)
That's what I want (that's what I want)
That's what I want (that's what I want)

Money don't get everything, it's true
But what it don't get, I can't use

I need money (that's what I want)
That's what I want (that's what I want)
That's what I want (that's what I want)
That's what I want (that's what I want)

Money (that's what I want)
Lots of money (that's what I want)
Whole lot of money (that's what I want)
Uh-huh (that's what I want)
All I want (that's what I want)
Whoa, yeah (that's what I want)

Give me money (that's what I want)
Oh, lots of money (that's what I want)
All those lean greens, yeah (that's what I want)
I got that, uh, that's what I mean (that's what I want)
All that I want (that's what I want)
Whoa, yeah (that's what I want)
Give me money, yeah